Do you like playing games? Do you like saving money? Do you like winning prizes? How about earning money? Chatting online?
What if I told you that you could do all of that at once, on one website!
You are probably wondering what is the catch, does it cost money to join? Is it a huge scam?
Well you'll be delighted to know that I have been trying out a site called
Dealspotr
that does all of those things and no it doesn't cost anything to join and no it's not a scam.
Dealspotr is a discount and savings site
but unlike others where you hunt around for codes and have to check dates etc, Dealspotr runs like a social media app. Dealspotr is the only coupon site that pays you (via gift cards) to share deals. You don't even have to buy anything to earn points, just share deals and be helpful to other shoppers.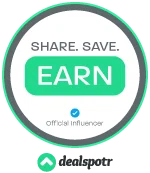 You follow people with similar interests, you chat in the
forums
, and you 'like' deals you see on your timeline. Just like other social media sites you add friends and companies that you like and deals from them appear in your timeline so you won't be bored by deals that are of no use to you, though you can look through all the site deals too.
Dealspotr is the only deal site to give you this personal feed of deals.
Similar to your Facebook news feed, you can subscribe to specific brands, topics, and people and curate a daily feed of deals personalised for you
Members also verify when a deal works for them, so the deals are always working when you find them, if they've stopped working, they are quickly reported and vanish from the system. (I haven't found a deal that didn't work yet)
The gaming aspect is the bit that many people will really like. You can share new deals and verify older ones to gain points (and what do points mean? Yes! Prizes!) you gain Amazon vouchers in exchange for points so not only are you saving on the deals you find, but you are making money by playing too! This incentive idea helps to keep the site fresh and the deals just keep coming. I've been using the site for a month now and I'd say it's a bit
time consuming
addictive, so I tend to pop in once a week or so, that means I'm gaining points slowly, but depending how much time you have points could rack up fairly quickly.
The site is worldwide and doesn't have a search by country option at the moment which can be a pain when you discover that the bargain McDonald's voucher you just found is only valid in the States, but as you build a group of friends you can start to see deals that you all like, so finding British Dealspotrs to follow is important for me!
When I first started using the site I found it a bit cumbersome. I'm terrible at
reading instruction manuals
and barely glanced at what I was supposed to be doing, so I floundered about a bit to begin with. Luckily Dealspotr is designed to guide you through the system, prompting you what to do next and what to add. The main thing to remember when sharing deals is that you'll need a screen shot and a nicely cropped one is best. Once you get used to doing that it's
easy
, I kept forgetting at the start!
Sharing the deals gains you points so it's a good idea to pop in regularly to share a deal or two if you can, and to check out the deals other people have found. Even if you are not the first person to find the deal you can still help by verifying that it's real.
A nice part of the site is the fact that the deals are described by real people so little tips about the deal or what to do when you claim something are all explained in plain language. The forums are fun for a chat or to ask questions about the site and the admin staff are quick to answer your questions.
It's a pretty large site and if you like bargains you are missing out by not joining. From free delivery, money off, free gifts and 'buy one get one free' deals, there are loads of great savings and special buys. You don't only have to share money off vouchers either, just spotting that your local Tesco has a great instore deal running this week can be posted onsite and shared with the community.
I really need new British friends to follow so if you join up (or are already on
Dealspotr) do say hello!
For bloggers there is even a deal sharing widget!
(look I tried it out to share a deal with you!)
All in all
it's a really friendly fun site where you can chat, 'play' by adding deals to improve your score, and save money on purchases
, just try not be be lured in to buying things you don't need! Oh! I see there is a champagne sale on...be right back...
Disclosure - This is a sponsored post and contains affiliate links, the opinions are all my own and the review shares my personal experience of the Dealspotr website